Dehumidification in Central VA
Our dehumidifiers improve air quality and control moisture damage
Improve the comfort and health of your home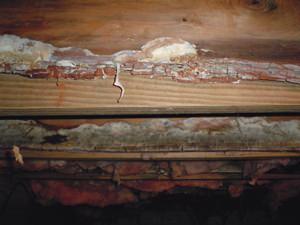 When you hear the term "home energy audit" or "energy assessment," it makes sense to assume that the main focus of this service will be the building's energy performance.
But a comprehensive energy audit should also focus on other aspects of Building Science, like indoor air quality and building durability. This is where dehumidification can be important.
Dehumidifier Installation in Virginia
Contact us today for more information and a Free Estimate for dehumidification in Charlottesville, Fredericksburg, Spotsylvania, Jeffersonton, Earlysville, Culpepper, Madison, Keswick, Rixeyville, Rapidan, Palmyra, Stanardsville, Locust Grove, and neighboring cities and towns.
Dehumidify Basements and Crawl Spaces in Central VA
Basements and crawl spaces are below-grade areas where high humidity levels can cause numerous problems. Moisture that saturates "fluffy" insulation like cellulose or fiberglass batts will dramatically diminish the insulation's R-value and adversely affect energy efficiency. Moisture also helps to promote the growth of mold on organic materials like wood, paper and even some types of paint. Mold spreads by means of airborne spores. These microscopic organisms pose a serious health hazard. Musty odors and mold stains are telltale signs of excess moisture that is promoting mold growth.
Excess moisture can shorten the life of building components. Screws, sheet metal and other steel elements rust and deteriorate, while wood can succumb to rot, threatening the structural integrity of a building. Termites, powder post beetles, and other pests love wood with high moisture content.
Effective dehumidification helps to solve moisture problems
Most energy experts will be able identify the need to dehumidify a basement or home in order to solve moisture problems. But Dr. Energy Saver® is the only full-service contractor with access to industry-leading moisture control and dehumidification systems, such as basement and crawl space dehumidifiers. Our expertise in basement waterproofing, crawl space sealing, and dehumidification enables us to deal with moisture problems like no other contractor can.
An effective moisture-control strategy in basements and crawl spaces is likely to incorporate air-sealing and insulation improvements in addition to dehumidification. This integrated strategy provides several benefits beyond moisture control: improved energy efficiency, healthier air quality, and a cleaner, better-looking space that improves your home's curb appeal. Learn more about our exclusive line of crawl space and basement dehumidifiers designed specifically for basements and crawl spaces.
Start Saving Energy and Money With A Whole-House Energy Audit.
Contact us today to learn more about our heating and cooling systems and techniques, and to schedule a Free Estimate for dehumidification in Spotsylvania, Jeffersonton, Earlysville, Fredericksburg, Charlottesvilleand more!
We also provide home energy audits to diagnose all energy problems and sources of discomfort within your home.
Looking for a price? Get a no cost, no obligation free estimate.