Oil Boiler Replacement, Service & Installation In Central VA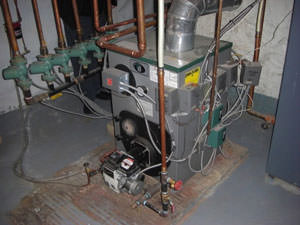 This type of boiler is very common in older homes. It vents through a chimney and relies on room air for combustion.
Despite the name, a boiler usually just heats water rather than boiling it. The hot water is then pumped to radiators, under-floor tubing, or to a heat exchanger. All of these heating systems are referred to as hydronic (water-based) heat.
Wall-mounted radiators and hot water baseboards use boiler-supplied hot water to warm rooms by radiation and convection. Hot water circulating in under-floor tubing (hydronic radiant floor heating) turns the entire floor surface into a giant radiator.
A boiler can also supply a forced-air heating system with hot water for its heat exchangers. This is called a "hydro-air" system.
We are Your Full-Service Home Heating Contractors in Central VA
We offer a Free Estimate for heating systems in Charlottesville, Fredericksburg, Spotsylvania, Jeffersonton, Earlysville, Culpepper, Madison, Keswick, Rixeyville, Rapidan, Palmyra, Stanardsville, Locust Grove, and much more! Contact us today to schedule your appointment!
High Efficiency Oil Boiler Repair in Fredericksburg, Earlysville, Charlottesville, Jeffersonton, Spotsylvania and More!
An oil-fired boiler that's more than 10 years old can be functioning perfectly but only working at 65% efficiency or less. This means that only 65% of the heat from the oil you paid for gets to your house. The rest goes up the chimney! It's just how old inefficient equipment is designed. Newer replacement oil-fired boilers are available that operate above 85% efficiency.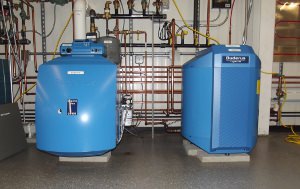 New high efficiency boiler helps save money in the long run!
This means you can lower your oil bills by 20%, 30%, or even 40% by upgrading to high efficiency equipment~ Wow! Not to mention all the other things Dr. Energy Saver can do to your home (air sealing, insulation, duct sealing, etc.) to make it use less oil for heating and be more comfortable.
Dr. Energy Saver Central Virginia can evaluate your current heating system and provide a free quote on a super-efficient system that will save you money. Beware however, that just because it's new doesn't make it high efficiency. The cost of the fuel used to run the boiler throughout its lifespan is huge compared to the cost of the boiler itself - so it's worth it to pay more for a higher efficiency boiler so you can save more in the long run.
Some boilers are designed to do two jobs, supplying hot water for heating and for washing. All boilers are described in the following ways:
BTU output. The heat output of a boiler is listed in thousands of BTUs (80,000btu, for example) and denotes the amount of heat energy the boiler can produce.
Annual Fuel Utilization Efficiency. A standard measure of efficiency for boilers and furnaces, AFUE tells you the percentage of input energy the unit can convert to output energy for warming your home.
Combustion and/or ventilation. "Sealed combustion," "direct vent" and "atmospheric combustion" boilers are available. Differences between these types are discussed below.
High Efficiency Oil Furnace Replacement
When it came time to upgrade a 10-year-old oil furnace with a cracked heat exchanger, Dr. Energy Saver and the homeowner opted for installing a replacement oil furnace that operates at 87% efficiency - the highest efficiency rate available from an oil furnace.
A new direct-vent boiler is a good investment
A conventional "atmospheric combustion" boiler draws on the air around it to help fuel the combustion process. Once combustion takes place, hot exhaust gases and other combustion byproducts are piped to a chimney where they rise naturally up and out of the house.
A direct-vent boiler is designed to burn fuel more thoroughly, usually in a secondary combustion chamber. Since nearly all the fuel's energy is extracted thanks to more complete combustion, flue gases are cool enough to be exhausted through a plastic pipe. No chimney is needed, and the pipe can simply extend through an exterior wall. A small fan is incorporated into the boiler design to aid in exhausting the flue gases.
Direct-vent boilers extract more heat from a given volume of fuel, so they're usually preferred by homeowners over atmospheric boilers.
A "sealed-combustion" boiler vents directly through the wall, but also gets its combustion air from outside the house. The combustion process is totally sealed off from the interior space. This type of boiler is also very energy efficient, attaining an AFUE of 85% and higher.
Combi-boilers do double duty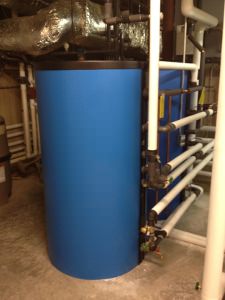 Super insulated tanks like this store heated water from the boiler for domestic hot water use.
Many homeowners who are upgrading to a more efficient boiler choose to achieve even greater energy savings with a combi-boiler. A combi-boiler heats water for household washing in addition to supplying hot water for the heating system. With a combi system, no separate hot water heater is necessary. In fact, when the boiler is running to provide water for whole-house heating, hot water for washing is heated for free. Replacing an older boiler and water heater with a combi-boiler can save hundreds of dollars every year.
What Does "Efficiency Rating" Mean?
A furnace boiler or water heater burns fuel to generate heat and needs to put that heat into an air stream in your ducts, or into water in your pipes. The efficiency rating is what percentage of that heat gets into your air or water. What happens to the rest of the heat? It goes up the chimney and is lost into the sky. Therefore, a 15-year-old furnace that is 65% efficient is putting 35% of the heat you paid for up the chimney. A 96% efficient furnace only "wastes" 4%! A big difference! And since the cost of the fuel you put through a furnace, boiler or water heater during its lifetime is much greater than the cost of the unit itself, it's worth it to install the very highest efficiency equipment available! Let Dr. Energy Saver accomplish this in your home!
Dr. Energy Saver Central Virginia can evaluate your current heating system and provide a free quote on a super-efficient system that will save you money. Call or email today for a free quote.
Start Saving Energy and Money With A Boiler Upgrade.
Call 1-888-370-6924 or contact us online to schedule a free home inspection and boiler estimate. We also offer a comprehensive home energy audit.
We proudly service: Spotsylvania, Jeffersonton, Earlysville, Fredericksburg, Charlottesville, Rixeyville, Locust Grove, Rapidan, Palmyra, Keswick, Madison, Stanardsville, Culpepper, and more!
Looking for a price? Get a no cost, no obligation free estimate.