Oil Heating Systems in Central VA
Oil heating systems provide an affordable heating option for the home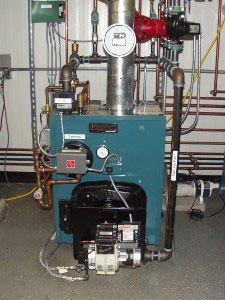 Oil heating systems are more common in the Northeast than in most other parts of the country. Heating oil can be used to fuel a furnace (often system referred to as an "oil burner") that heats air for distribution throughout the house. It can also be used in a boiler that heats water.
A pump distributes the hot water to radiators installed in different parts of the house. Hot water baseboard radiators are the most commonly used radiators. If you have an indirect water heater, this means that your oil furnace or boiler also heats the water you use for washing.
An oil boiler can also be part of a hydro-air system. This is a forced-air heating system that utilizes hot water (pumped through a heat exchanger) to heat air for distribution throughout the house.
What Does "Efficiency Rating" Mean?
A furnace boiler or water heater burns fuel to generate heat and needs to put that heat into an air stream in your ducts, or into water in your pipes. The efficiency rating is what percentage of that heat gets into your air or water. What happens to the rest of the heat? It goes up the chimney and is lost into the sky. Therefore, a 15-year-old furnace that is 65% efficient is putting 35% of the heat you paid for up the chimney. A 96% efficient furnace only "wastes" 4%! A big difference! And since the cost of the fuel you put through a furnace, boiler or water heater during its lifetime is much greater than the cost of the unit itself, it's worth it to install the very highest efficiency equipment available! Let Dr. Energy Saver accomplish this in your home!
Dr. Energy Saver Central Virginia can evaluate your current heating system and provide a free quote on a super-efficient system that will save you money. Call or email today for a free quote. We proudly service Fredericksburg, Earlysville, Charlottesville, Jeffersonton, Spotsylvania, Keswick, Rixeyville, Locust Grove, Rapidan, Palmyra, Culpepper, Madison, Stanardsville, and many more surrounding cities and towns.
Dr. Energy Saver Central Virginia can service your oil heating system to ensure maximum efficiency. We will also provide a free quote for replacing an old, inefficient oil furnace or boiler with a state-of-the-art system that will save money and improve comfort. Call or email to arrange for a Free Estimate.
While oil heat has a long and well-established history, it is more problematic today for several reasons. Because we import about 60% of the oil we use, the cost of oil is unpredictable and largely beyond our control.
Increased global demand for oil, combined with political instability in many oil-producing countries, lead many experts to predict rising oil prices in the future.
Fortunately, furnace and boiler manufacturers continue to refine combustion technology and produce super-efficient heating equipment.
If your oil furnace or boiler is more than 10 years old, it's worth considering a new furnace or boiler that will operate much more efficiently.
Start Saving Energy and Money With A Heating Upgrade.
Call 1-888-370-6924 or contact us online to schedule a free home inspection and heating estimate. We also offer a comprehensive home energy audit.
Looking for a price? Get a no cost, no obligation free estimate.