Expert Crawl Space Winterization in Fredericksburg & Throughout Central VA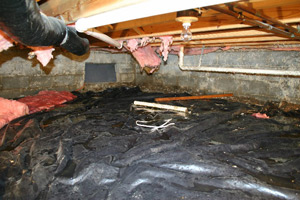 Avoid this crawl space mistake. Fiberglass batt insulation installed between joists in a crawl space will not provide adequate or long-lasting protection against frozen pipes or cold floors.
Improve your home's comfort, lower heating costs & prevent frozen pipes
We specialize in solutions to winterize your crawl space to prevent cold floors, high heating costs, and frozen pipes.
Contact Dr. Energy Saver Central Virginia for your free quote. We will perform a thorough inspection of your crawl space and seal all air leaks. We install high-performance crawl space insulation to help improve your home comfort and energy efficiency year round.
We are the trusted experts for winterizing crawl spaces in Fredericksburg, Earlysville, Charlottesville, Jeffersonton, Spotsylvania and surrounding areas.
Ways we can winterize your crawl space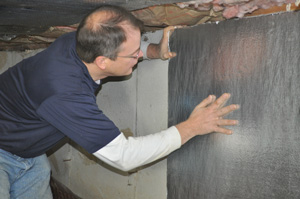 A smart & permanent solution. Insulating crawl space walls with rigid foam insulation creates a thermal barrier that can't be damaged by moisture and won't degrade in appearance or R-value over time.
Insulating & air sealing the rim joist. Left untreated, this thin layer of framing will allow heat to escape and frigid outside air to infiltrate. A professionally installed foam insulation upgrade eliminates these problems.
Insulate crawl space walls with rigid foam. Many crawl spaces have fiberglass batt insulation installed between floor joists. Unfortunately, fiberglass insulation doesn't perform well in crawl space environments. That's why we insulate crawl space walls with SilverGlo™ rigid foam insulation. This high-performance rigid foam is immune to moisture damage and won't lose its R-value or fall out of place once installed.
Seal & insulate the crawl space. Crawl space encapsulation, or crawl space sealing, is proven to not only improve your home's comfort and energy efficiency; it also helps prevent moisture damage in your crawl space. We insulate crawl space floors with TerraBlock™ rigid foam insulation. We then cover the crawl space floors with a durable moisture barrier to seal your crawl space and seal crawl space vents to keep outside air out.
Get a free quote to seal & insulate your crawl space
Call us or visit our free estimate page to schedule an inspection and get a no-cost quote for crawl space winterization. We provide a wide range of insulation solutions to homeowners in Keswick, Rixeyville, Locust Grove, Rapidan, Palmyra, Culpepper, Madison, Stanardsville and nearby.
Looking for a price? Get a no cost, no obligation free estimate.